Honorary President Emeritus 
in Perpetuity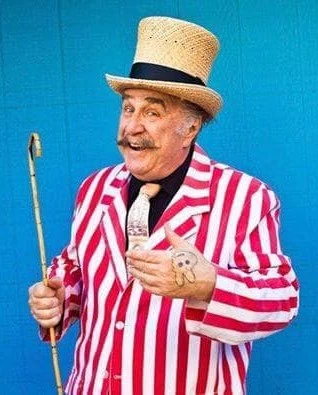 Aye Jaye has been unanimously voted by the Robin Marks Foundation's original founding Board of Directors to be our Honorary President In Perpetuity!
The indomitable Aye Jaye's adventures began when he used to perform in his family's circus act. Eventually, the lure of the open road was too strong - and he ran away from the circus to join his uncle's carnival! After many years of traveling and learning the trade of a carny, he found some new adventures.
Aye Jaye became one of the first Ronald McDonalds™, representing McDonalds™ restaurants all over the world. He remained Head Boss Clown of the organization for many years, training new clowns and maintaining the integrity of the brand. After transitioning his interests to include magic, Aye Jaye also became an actor for film and television, published author (his book "The Golden Rule of Schmoozing" and the graphic novel "Carny Trash"), and created his own one-man show (Carny Trash). 
Additionally, he became an influence and mentor to many up-and-coming sideshow performers, clowns, and magicians. Aye Jaye was awarded the Lifetime of Laughter Award in 1991 from the Clown Hall of Fame and presented with a Lifetime Achievement Award in 2017 by the Southern Sideshow Hootenanny.
In addition to being a lifetime Showman, Aye Jaye is also a member of the Academy of Magical Arts and frequent performer at The Magic Castle in Hollywood. He is a loving husband, a father of many foster kids in addition to his own children - and still performs often with his daughter and current stage partner, Z'dra Jaye.